Reflections by the Pond
Reflections by the Pond is our monthly devotional journal.
Beginning Wednesday, March 15, 2017, our weekly 1-2 page devotional became a longer devotional journal, published on the fifteenth of each month. This longer, monthly publication will still be published in two PDF editions—one suitable for printing, the other suitable for on-screen reading—as well as HTML (as the earlier issues below).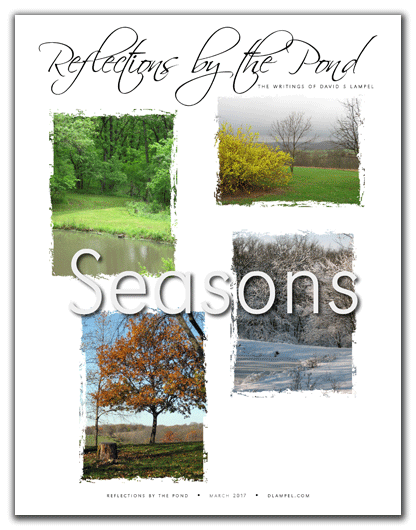 NOTE: While we intend to still publish Reflections in the text-only format of HTML, we earnestly encourage everyone to download or read online either of the two PDF editions. You will be missing a lot—a lot—by sticking with the text-only version.
Our purpose in expanding Reflections is to offer our readers more of what the writer to the Hebrews called "solid food": For everyone who partakes only of milk is not accustomed to the word of righteousness, for he is an infant. But solid food is for the mature, who because of practice have their senses trained to discern good and evil. (Hebrews 5:13-14)
We are expanding Reflections into a deeper, richer publication you will want to download and read throughout the month. If you prefer reading it in your browser, or on your "smart" device, then you will want to click on the link for the "on-screen" PDF edition.
As always, your comments and questions are welcome. Go to our Contact Page to leave us a message.
Use the list below, or the menu to the left, to navigate through the weekly issues of Reflections. To move from one issue to the next, or previous, use the links located at the bottom of each page.
On any PDF link, left-click to open the file in your browser, or right-click to select from the context menu and download the file to your computer.