Reflections by the Pond
Reflections by the Pond is our weekly devotional journal.
Imagine standing on a gently sloping hillside, watching a glorious sunset descend into the western hills. Your heart swells as "the heavens declare the glory of God" and your conscious mind fills with images of Jehovah God seated upon His eternal throne.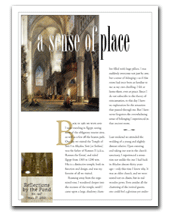 Imagine one day you observe a doe coaxing her young fawn to leap a high fence. No matter how many times the little one complains and demurs, his mother keeps at him, patiently teaching her child how to survive and thrive in a sometimes hostile world. And you realize that you are observing a perfect illustration of how Christ patiently leads you every day, teaching you how to grow in Him even as you live in a sometimes hostile world.
That is the basis for Reflections by the Pond--finding God in the world around us.
Use the list below, or the menu to the left, to navigate through the weekly issues of Reflections. To move from one issue to the next, or previous, use the links located at the bottom of each page.
On any PDF link, left-click to open the file in your browser, or right-click to select from the context menu and download the file to your computer.
You may read Reflections here at our web site or download the PDF edition to your computer. We offer it in three different editions; one or more will suit your needs. Note: Beginning with issue #417, on October 19, 2009, we introduced a new PDF "Screen" edition for easier reading on-screen.