The Journey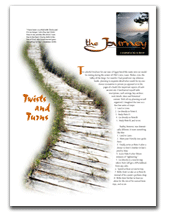 On January 5, 2004 we launched a new devotional entitled The Journey.
This brand new weekly publication will chronicle that sometimes tortuous, but ultimately rewarding, triumphant journey of life in Christ. The Christian path is one of adventure: there is never a dull moment. It passes through valleys, and climbs the highest peaks--but it need never sink into the "Slough of Despond."

In the moment of our rebirth, God justifies us and, in one sense (as in "set apart"), sanctifies us. But in a second sense, sanctification is an ongoing, maturing process that gradually--sometimes painfully--changes us into the likeness of our Savior. It is a holy occupation that is conducted while in the flesh, thus is imperfect, and grossly inefficient. The journey of sanctification is, ultimately, a very human process.


Since the journey does not proceed in a straight line, the chronicle of this journey will be more like a family scrapbook than a systematic journal. We will encounter both friends and foes, neighbors and strangers. We will discover the sometimes uncomfortable truth about ourselves on the way to learning the reassuring truth about our Lord. We will find encouragement for a road that is sometimes treacherous, sometimes bathed in the light of the Son. We will be honest and unafraid, but we will always seek our footing on the trustworthy foundation of God's word.


So join us on this journey of discovery and sanctification as we seek to become more and more, each day, like our Lord Jesus Christ. (from the first issue of The Journey)
We have included the HTML edition of the second issue for you to sample. For subsequent issues you may use the links below or those located on the following pages.
Use the links below to download ZIP files containing the complete The Journey series--in PDF, HTML, or plain text format. On subsequent pages you may view/download the same by month (ZIP containing PDFs) or individual issue (PDF).
(The Journey ceased publication on May 21, 2007.)
The Journey
All Issues

PDF Edition
Large file! 175 issues / Zip size: 49 mb / UNZipped size: 52 mb. This archive contains every Adobe Acrobat (PDF) issue of the weekly devotional, The Journey--published from January 8, 2004 through May 21, 2007.

HTML Edition
This archive contains every HTML issue of the weekly devotional, The Journey.

Plain text Edition
This archive contains every plain text issue of the weekly devotional, The Journey.