Christ in the Old Testament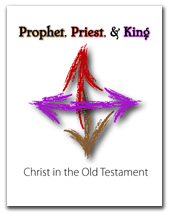 Click to view/download complete notes in one file.
Prophet, Priest & King: Christ in the Old Testament
To the surprise of many, the Old Testament is actually chock-full of Jesus the Christ. It is "pressed down, shaken together and running over" with Him. The astute reader will find references to Him, prophecies about Him, and actual visitations by Him. The purpose of this class is to not just find those prophecies and references—those foreshadowings—but to discover how they weave together to form a marvelous narrative about God's plan for man through the Messiah.
| | | |
| --- | --- | --- |
| Session | PDF Notes | Audio Recording |
| Session One: Just a Taste | | |
| Session Two: The Seed, Part One | | |
| Session Three: The Seed, Part Two | | |
| Session Four: The House of Shem | | |
| Session Five: Abraham | | |
| Session Six: Shiloh | | |
| Session Seven: Born to us | | |
| Session Eight: The Rock | | |
| Session Nine: The Branch / The King | | |
| Session Ten: The Shepherd | | |
| Session Eleven: A Prophet Like Moses | | |
| Special Christmas Devotional: O Son of God Incarnate | | |
| Session Twelve: Our High Priest, Part One | | |
| Session Thirteen: Our High Priest, Part Two | | |
| Session Fourteen: Our High Priest, Part Three | | |
| Session Fifteen: The Preincarnate Christ, Part One | | |
| Session Sixteen: The Preincarnate Christ, Part Two | | |
| Session Seventeen: The Son Who Would be King, Part One | | |
| Session Eighteen: The Son Who Would be King, Part Two | | |
| Session Nineteen: Tracing His Passion | | |
| Session Twenty: Tracing His Victory | | |
| Session Twenty-one: The Risen Lord | | |
| Session Twenty-two: Captives and Gifts | | |
| Session Twenty-three: His Return | | |
| Session Twenty-four: The Judgment of the King | | |
| Session Twenty-five: Everything New! | | |
| Session Twenty-six: A New Earthly Temple (Final) | | |